BUSINESS INTELLIGENCE With power bi
We create time for the important things! With Microsoft Power BI, analyzing your company data is simple and straightforward. In an interactive dashboard, you have access to all KPIs relevant to you - individually tailored to you.
To do this, we design the necessary data structure for you and feed in all relevant figures from various data sources. This makes working with large and confusing Excel tables a thing of the past for you. Regardless of whether you are a retailer, your own brand or a service provider: with Power BI Dashboards, you can concentrate fully on your core business while building your corporate strategy on data. 
Not convinced yet? Try it out!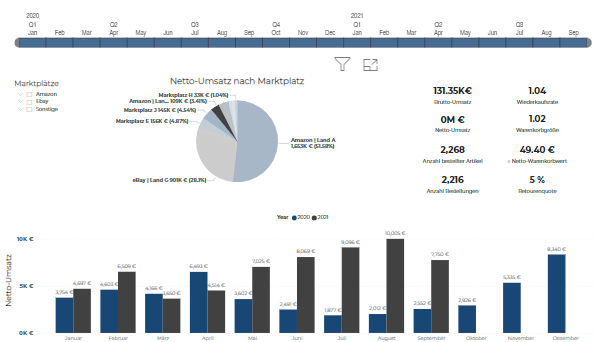 Gibt es Marktplätze, welche Sie sich gerne genauer ansehen möchten?
Für welchen Zeitraum möchten Sie nähere Informationen erhalten?
Gibt es spezifische Länder, über die Sie mehr erfahren wollen?
Is comparing your sales with the previous year interesting for you?
Möchten Sie die Kennzahlen für einen einzelnen Monat näher erörtern?
1 Are there any marketplaces you would like to take a closer look at?
2 For which period would you like to receive more detailed information?
3 Are there specific countries you want to learn more about?

4 Is comparing your sales with the previous year interesting for you?

5 Would you like to discuss the key figures for a single month in more detail?

Overview of all KPIs with one click

Unclear Excel tables are a thing of the past. We create interfaces between your systems and set up the data structure. With the help of business intelligence, you can find out everything you want to know about your company with just a few clicks. Everywhere and at any time.
Individual key figures through flexible adaptation
Whether you are a retailer, brand or service provider, we can customize your dashboard to meet your individual needs. It doesn't matter whether you want an overview of all company activities or only for individual areas. You say what you need - and we do it for you!
Data based business decisions
A sound set of figures is essential for making important corporate decisions. If you don't have them, you can quickly find yourself flying blind. Through individual dashboards, strategic decisions can be made in a targeted manner. 
Collaboration made simple
The success of a company stands and falls with the cooperation of the different areas. Only through internal exchange and thus the sharing of expertise can all potential within the company be fully exploited. Merging the areas by means of dashboards paves the way for this.
140,000 RECORDS - WITH 1 CLICK! TRY LIVE NOW!